Eléonore Hellio
Commentaires fermés

sur Eléonore Hellio
Eléonore Hellio
Interspecies Communication: Lucid dreams from Kongo Astronauts
Kinshasa, Democratic Republic of Congo
Artist, co-founder of the fluctuating art collective Kongo Astronauts, Kinshasa, Democratic Republic of Congo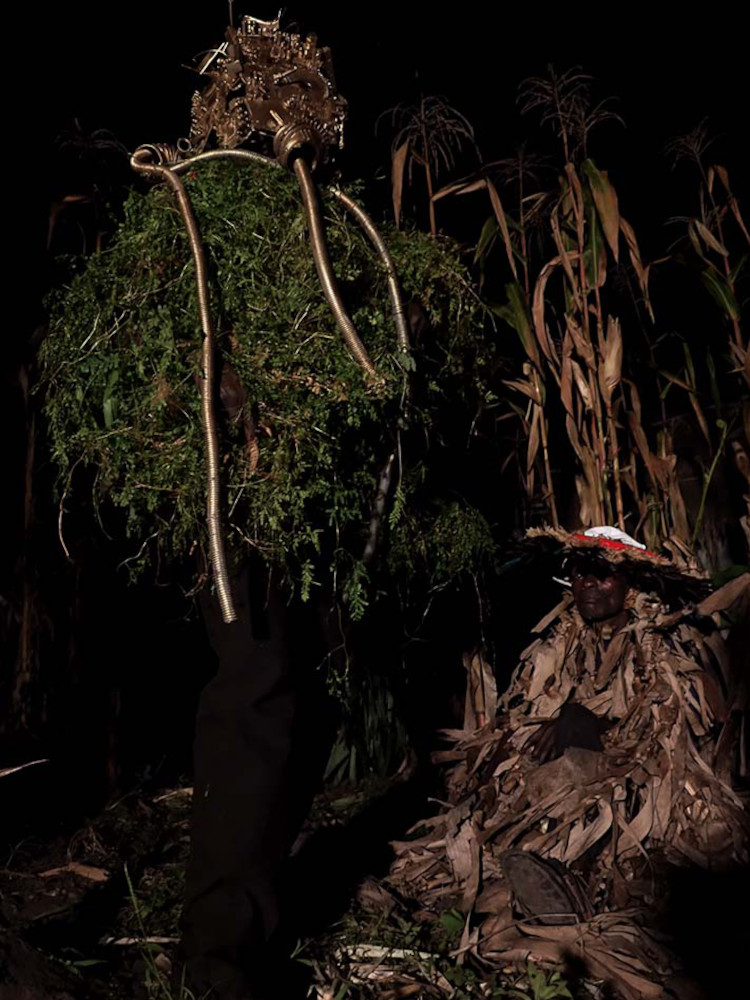 Imagine our traveling plant as a matrix for language invoking deeper knowledge of ourselves, maybe even giving insight on the multiverse. Our traveling plant is not just any plant, we are talking here about a plant which is itself the vehicle allowing us to travel through time and space, through the junction of our synapses to the core of our pineal gland where lucid dreams may unfold. A plant as a catalyst for change that needs all our protection, a plant triggering interspecies telepathic uprising to stimulate ancestral memory and expand awareness and sensation, a plant responding to sound frequencies to rise towards the sky, a plant communicating with other plants using the mycelium of mushrooms that connects roots to one another (earth natural network), a plant for new cognitive activities … The plant as a trance. From the urban maze of Kinshasa, Kongo Astronauts land on the post-plantation of Lusanga (Kwilu Province of DRC) to meet with the Congolese Plantation Workers Art League (CATPC). Together as planters, nganga (traditional healers), dreamers, artists, they enhance their extra-sensorial perception to investigate remaining knowledge of nature's magical realm as the politics of extraction inherited from the colonial era continues to destroy tropical forests of Central Africa.
Communication interespèces : les rêves lucides des Kongo Astronauts
Imaginez notre plante comme une matrice du langage invoquant une connaissance plus profonde de nous-mêmes, peut-être même donnant une perception du multivers. Notre plante itinérante n'est pas n'importe quelle plante, nous parlons ici d'une plante qui est elle-même le véhicule nous permettant de voyager à travers le temps et l'espace, à travers la jonction de nos synapses jusqu'au cœur de notre glande pinéale d'où se déroulent les rêves lucides. Une plante comme catalyseur de changement qui a besoin de toute notre protection, une plante déclenchant le soulèvement télépathique interespèces pour stimuler la mémoire ancestrale et élargir la conscience et la sensation, une plante répondant aux fréquences sonores pour s'élever vers le ciel, une plante communiquant avec d'autres plantes grâce au mycélium des champignons qui relient les racines des plantes les unes aux autres (réseau naturel de la terre), une plante pour de nouvelles activités cognitives… La plante comme transe. Depuis le labyrinthe urbain de Kinshasa, les Kongo Astronautes débarquent sur la post-plantation de Lusanga (province du Kwilu en RDC) pour rencontrer le Cercle d'Art des travailleurs de Plantation Congolaise (CATPC). Ensemble en tant que planteurs, nganga (guérisseurs traditionnels), rêveurs, artistes, ils améliorent leur perception extra-sensorielle pour enquêter sur les connaissances du royaume magique de la nature qui ont subsisté alors que la politique d'extraction héritée de l'ère coloniale continue de détruire les forêts tropicales d'Afrique Centrale.