Anna Hill – Space Synapse Systems and the Symbiotic Sphere – 2004
First publication workshop Space: Science, Technology and the Arts in collaboration with ESA/ESTEC, 2004
For the Space Synapse System, I have taken inspiration from the microstructure of the brain and the synapse, one of the fundamental bases of human consciousness. The intention is to place an interactive sculpture, the Symbiotic Sphere in orbit with the European Module of the International Space Station (ISS). Using communications links to connect the Symbiotic Sphere with other information synapses located on Earth, a Space Synapse System will be created through which and with which life, both on Earth and in space, will be able to interact.
My art practice explores two-way dialogues between artistic and scientific interpretations of visual and sensory perceptions. Recent creative enquiry is specifically concerned with human perception and sensory interaction through technological media. This is articulated through engaging with imagery and technology from current medical and astronomical science to produce time-based interactive works.
The creative collaborative process of the Space Synapse System will be inclusive of education, cultural and curatorial networks and place an emphasis on outreach to encourage a new public consciousness of space, environment and sustainable technologies.
The three key synapses within the Space Synapse System.
The interactive artwork I am proposing has three key elements. Symbiotic Sphere on board the ISS, Virtual Synapses using information and communications technology to create a global Digital Community and Terrestrial Synapses that will be gallery, museum and architectural interventions on Earth.
These three elements will contribute to advancing the notion that the ISS is an animated staging post for human evolution into space by facilitating cultural educational and creative dialog from a multitude of participating synapses both on earth and space.
The Space Synapse System is about distributing and envisioning information from space and about re-defining our human response and consciousness of it. In the developed world, many everyday 21st century experiences are now mediated through technology. However our information rich society is at risk of prioritizing quantity of information exchange over quality and content of communication. Space Synapse will utilize both existing and developing space and communications technologies to positive cultural effect. Through innovation and collaboration, it seeks to re-engage with the essence of what it is to be human, to share experience and share a sense of global responsibility. Space Synapse Systems will be a truly collaborative international project where audiences and practitioners are brought together from different disciplines to provide an innovative and participatory system.
A brief biography of the Space Synapse concept and the logistics of working with Space
I graduated from the RCA in 1999 having written my MA thesis "On the relationship between mind and matter –towards a new consciousness". As part of my research I spent time with an inspirational mentor: the Light and Land Artist James Turrell at the Roden Crater project in Arizona USA. My final show Foetal Space in 1999 utilized composite earth observation images and combined them with non-invasive medical ultrasound. I animated the space and foetal images and projected into a speaker pool a synthesis of ultra sound and projected image with a random play of wave formations alluding to the ocean. For research, I was resident in a foetal unit at University College Hospital London where, with patient consent I gathered my material.
I moved to Dublin in 2000 with a residency at the Museum of Modern Art. I continued researching a developing interest in the relationship between medical and space technologies and the positive impact such technologies might offer humankind and other life on the planet. During this time I exhibited Yew Galaxy at Jodrell Bank Science Centre where I used optical and radio astronomy as my reference material together with my existing inspiration from and knowledge of the yew tree.
In 2001 I embarked on research and development for Space Synapse during a Residency at the Fire Station Artist's Studios, Dublin. With their support, I published a CDROM and catalogue copyrighting the creative concept in 2002. I was introduced to the Irish European Space Agency (ESA) delegates and together we formed a delegation to receive the ESA Education Department and present the project to them.
The Education Department passed the project onto the Space Technology Transfer Promotions Office to whom I presented the project at the Irish Museum of Modern Art, where I was on the Artist's work panel in March 2003. Beginning to understand the logistical, financial and political implications of the project, I established a limited company in 2003 with support from Enterprise Ireland. This gave me the necessary launch pad for the ESA contract that I embarked on in September of that year for an interactive sculpture for the European Module of the ISS.
Space Synapse Ltd. has worked with a core team of consultants including Skytek, Matterialize, Technology Troubleshooter and Northburgh and is in the process of appointing post doctorate researchers from related fields to strengthen our creative and innovation research foundation.
Space Synapse Ltd. is a high potential start up company with an incubation unit at the Digital Depot in the Digital Hub, Dublin in what is fast developing as a European digital "hot spot".
Space Synapse conference presentations and consultancy
I have presented the concept internationally including papers at The Future of Sound (part one) during the BAFTA Interactive Festival London 2004; as visiting lecturer for MA Media and Fine Art students at Falmouth College of Art, UK and Lapland University, Finland. I consulted to DEMOS in 2003 for their report and 2004 publication Masters of the Universe- Science, Politics and the New Space Race. In 2002 I was invited to deliver a breakout session at the ASCI 2002 Art Science Conference, New York (Arts Council of Ireland Travel Award), on the trials and tribulations of interdisciplinary art science collaboration. Finally I presented the concept at RADICAL: "Creative Europe and European Creatives" a conference in London organized by Central St Martins School of Art in 2002.
Acknowledgements
The Fire Station Artists Studios provided me with the residency and support to initiate the Space Synapse project and Enterprise Ireland have housed me in an innovation incubation unit where I am currently hatching future plans.
As well as the core consultants, I am grateful to a highly skilled interdisciplinary group of people who have contributed to the progress of the project including Iarla O'Lionaird, Erika Csibi, Maurice O'Donoghue, Chris Welch, Martin Shanagher, Brian O Donnell, Seamus Gallen, Leo Enright, Tony Sheehan, Robert Monroe, Nyssim Lefford, Piero Messina and David Raitt at the ESA.
New conceptions of Space
My art practice and research is motivated by the tenet that the self and the universe are not separate entities but one functional whole composed of complex and inter-related systems.
Through interdisciplinary collaborations with space scientists, architects, designers and communications experts, I aim to integrate imagination, science and indigenous knowledge to promote an emotional connection to our environment. Micro and macro space may be enfolded and intuitive intelligence recognised and valued. The human race evolved from the Earth and in order to continue evolving into the space age, I believe we must collaborate with, rather than try to control nature.
A systems approach allows for exchange of intelligence between disciplines. This gives cause for me to feel optimistic with the emergence of a retro-futurist view of life on Earth that includes collective intelligence through evolutionary time. This enables us to progress into the Space Age with an awe-inspired imaginative vision unrestricted by the linear and rational mindset. By relating to the world as a self-organising system, distinctions between nature and artifice, virtual and actual, sacred and profane are disintegrating.
The project also integrates archetypes of ancient cosmologies. In the past, the heavens were considered not just a physical reality relating to natural rhythms and navigation on earth but a spiritual realm with fateful influence over human life on earth.
In the modern technological world, dependency on specialists has increasingly taken creative processes and responsibilities away from the individual. This has resulted in the creation of a culture of material consumption, environmental damage, cynicism and passivity. Such loss of self-awareness on an individual and collective level, in my view, also results in a 'loss of a soul'.
The natural world that extends from cosmic macro dimensions to micro dimensions embodies interdependent chaotic systems that form beautiful equilibria. Designers and creators of new spaces and cultural products may now be empowered and inspired by this creative connectivity. Space exploration has given us the ideal vehicle for such a transformation of consciousness yet the individual human experience of astronauts and cosmonauts has remained unreachable to most.
Space Synapse systems, an interactive sculpture for an orbiting spacecraft – is about sharing the human experience of space missions. It symbolises a "nerve centre" of new thought inspired by the experiences of humans in orbit. It symbolises a bottom–up and top-down distributed system of participation. Its purpose is to inspire and catalyse human evolution through a cultural engagement with the experience of space. The overview effect [1] that humans experience in orbit will become available to us all. The realisation of the unity and ecological interdependence of all life on Earth, irrespective of political boundaries, digital and economic divides, will encourage life sustaining thought and actions.
Space Synapse will be experienced on Earth through interactive virtual and actual art, design and architecture. New cultural attitudes will be synapsed through the interactive website and this will assist in the creation of new narratives for education. Human adaptation is essential to our survival, and technology may now be our invisible and ubiquitous tool for new creative thought and action.
Tenets as Inspiration
The Unknown
Security and changelessness are fabricated by the ego-dominated mind and do not exist in nature. To accept insecurity and commit oneself to the unknown creates a relaxing faith in the universe.
In emptiness, forms are born. When one becomes empty of assumptions, inferences, and judgements acquired over the years, one comes close to one's original nature and is capable of conceiving fresh ideas and reacting spontaneously.
True insight does not issue from specialised knowledge, from membership in coteries, from doctrines or dogmas. It comes from the preconscious an intuition of one's whole being, from one's own code.
Data Sources for Symbiotic Sphere and the Space Synapse System
Data Sources will include still images, moving images, audio and data flows transformed by algorithms within the interactive sculpture software for use in the interactive system. From the ISS, housekeeping data, i.e. orbital height/ radiator orientation data, and experimental data such as bio-medical, life and physical sciences will be absorbed. Images and sounds recorded by the both the Symbiotic Sphere as well as the external cameras will be used. External cameras will record astronauts' interaction with the Symbiotic Sphere as well as external views taken through the view port. Localized sound recording will also be taken from within the ISS.
External ISS experimental data will be used as well as inputs from other space sources such as satellite data flows and radio and optical astronomy.
From the Earth, sounds and images inclusive of animals and Nature will feed into data flows as well as musical and artistic inputs from different cultures on Earth. Data flows from educational software interaction, terrestrial art and design interactions will flow. The interactive website will have two way data flows and 3G third generation mobile phone interaction. Interactive TV will input information across the digital divide using sustainable technology for solar powered terrestrial interaction with the Symbiotic Sphere and Space Synapse System.
Space Synapse System Users
The Space Synapse users are the Astronauts on the ISS in Earth orbit, the European and the Global Digital Community. The information flows will participate as Space Synapse is a learning and generative system. The objectives are to provide creative inspiration for space technology transfer using software development as "the glue" to knit together the Space Synapse Digital Community.
Designing an artwork for Space
My goal was therefore to design an aesthetic object as well as a functional entity: an interactive artwork for the European Module. The artwork has to be iconic for the Space Synapse System, standing up to both to user requirements and scientific analysis.
Due to the extreme and functional environment of a space module, the creative design process is quite unique, as technical and physical restrictions must be adhered to.
The space environment is unusually expansive in terms of its creative inspiration so I came to perceive of the restrictions as constructive and useful in the design process. Furthermore, consideration of the astronauts (the users) in zero gravity and the users on Earth served to lend the creative process some necessary boundaries as well as added inspiration.
The initial challenge was to create three strong concepts that could be evaluated and responded to by the technical team at the midterm phase. The final concept had to accommodate the detailed technical evaluations of the mid -term report to facilitate one technically feasible concept for "an interactive artwork for space".
Art, science and design in the Space Synapse System
The Symbiotic Sphere is a hybrid and the feasibility process involved collaboration and syntheses of art, science and design in order to create a "nerve centre" for the system. These principles and the inter-relationship between them have given the symbiotic sphere its name.
SYMBIOTIC SPHERE – referring to symbiosis of art and science, life on our planet, the universe and cosmos.
SYMBIOSIS – referring to a cooperative, mutually beneficial relationship.
Idea
The Symbiotic Sphere is a metallic sphere that embodies the idea of wholeness, peaceful co-existence, perfection, the music of the spheres and an evolutionary layering of bio-cosmic time.
She is inspired and informed by the aesthetic and function of early instruments of navigation, astronomy, magnetism and time keeping. Such creative tools brought together scientific and aesthetic modalities.
The Symbiotic Sphere serves to connect the astronauts with bio cosmic sounds through a wireless (possibly holophonic) headset modulating life forms and frequencies on earth with their own biological rhythms and sounds from the Space Synapse System.
The Symbiotic Sphere is a precious and tactile object that may be interacted with intimately through projections from the space synapse system onto astronauts' hands and living quarters. When free floating through the module, she observes and records the surroundings, including video and stills through the module's portal on outer space and astronaut's interaction within.
The Symbiotic Sphere alludes to both micro and macro space and time and has a micro cosmos within it viewed through one of her protective portals.
Another protective portal contains a magnetic compass, another a Venus time watch, where a day lasts more than an Earth's year, so making relative Earth-centric and cosmological time scales and biorhythms.
The Symbiotic Sphere embodies our changing perception of ourselves, the planet Earth and the Universe we inhabit, through the advances of both culture and science. She is inspired by humankind's consistent curiosity that strives to explore and adapt to new territories using creative and evolutionary tools.
Materials
The Symbiotic Sphere is hand fabricated using precious etched metals and gems from the Earth's five continents (applied in planetary proportion) Space materials such as lunar tektite and Mars dust may ornament the piece further. Within a micro cosmos viewed through a portal, rests fossilized stromatolite, the earliest life form on Earth.
The protective material for the orb may be a soft inflatable or convex and optically clear rubber. These form rubberised disks that serve the dual function of "portal" for camera and projection hardware and protection of the artwork and astronauts when Symbiotic Sphere is roaming, free floating within the module.
The dock is made of translucent epoxy resin or cast clear plastic or rubber that contains the hardware that pulses according to information flow.
Interaction
The Symbiotic Sphere illuminates electronically and communicates wirelessly. Fibre optic lights pulsate according to the activity within the system and the position of the module's orbit.
She is capable of independent recordings when free floating and interacting with astronauts and continues to process and exchange SSS data flows when dormant in her dock.
Fixture
The Symbiotic Sphere rests in a docking device that is situated in the European drawer rack. Here she re-charges, learns and exchanges information within the space synapse system.
The astronauts bring out the Symbiotic Sphere for interaction sessions on a regular basis. She may be hand held or allowed to roam free through the interior of the module. She may also be anchored within the module's interior for specific data collection.
References
Bio cosmic sound, ethno-astronomy, cosmology, bio cosmic time cycles, early scientific measuring devices, geology, mapmaking and palaeontology.
The etched precious metal surface with fibre optic lighting, references early mapmaking and visualizations of the stars.
[1] Frank White: The Overview Effect: Space Exploration and Human Evolution, AIAA, 1998.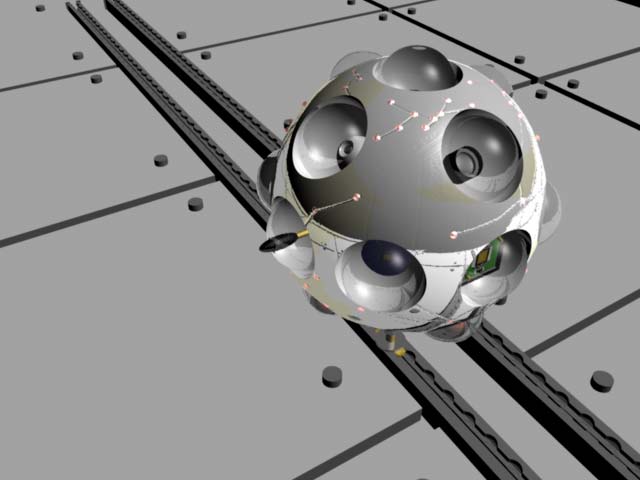 © Anna Hill & Leonardo/Olats, mai 2004, republished 2023